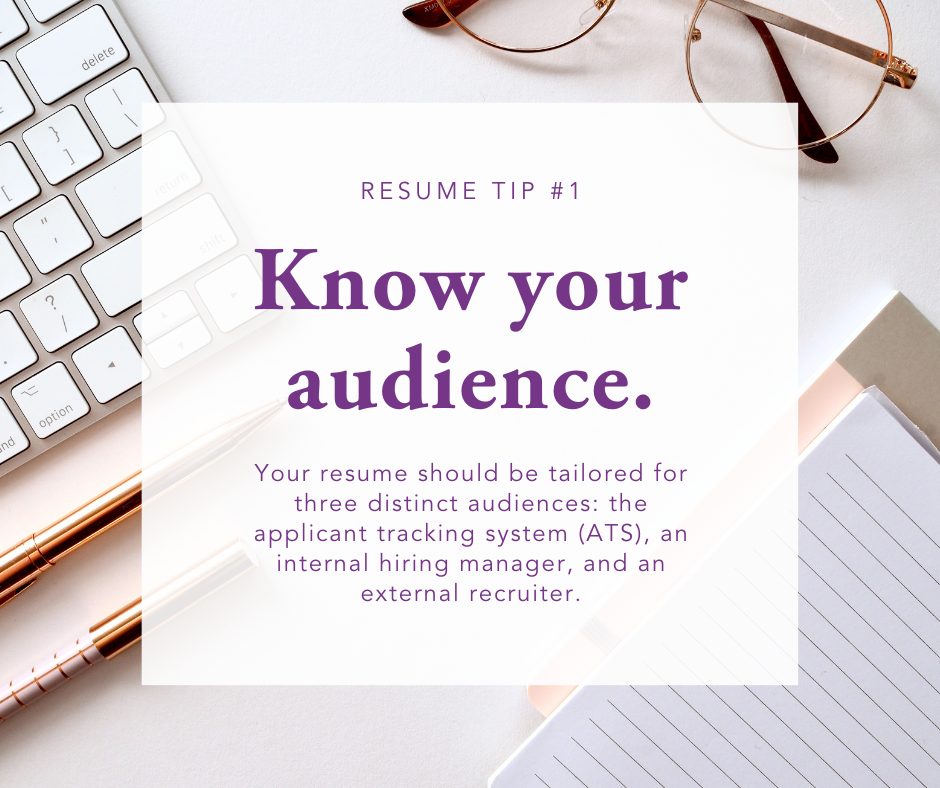 Know your audience.
As with any piece of writing, the first thing to consider is your audience. There are three types of readers for resumes: the applicant tracking system (ATS), an internal hiring manager, and an external recruiter. In all three cases, you'll want to use the language from the job listing for which you are applying. Though it's tempting to mix up your word choice so as not to be repetitive, this can backfire. Both the ATS and the external recruiter will be relying heavily on language from the job listing to screen your resume before passing it along to an internal hiring manager. If you are updating your resume without a specific job listing in mind, you should still peruse listings to see what kinds of terms are used currently to describe the work in your field.
The Applicant Tracking System (ATS)
The first step in your job search is to get your resume past the applicant tracking system, or ATS, which is a type of software that collects and sorts resumes.
ATS software is very popular among Fortune 500 companies, as well as smaller businesses, so it's a necessary hurdle to jump for a lot of job applicants. ATS software uses algorithms to scan each resume for relevant information, such as job titles and key skills. Look for these terms in the job listing and include the same wording in your resume when possible. Key skills can be listed in both your Skills and Work History sections.
To make your resume format readable by the ATS, do not include tables or images. Use machine-friendly fonts such as Garamond, Calibri, or Cambria. Don't use a script font unless the creative flourish is appropriate for your field. Use standard headings such as "Work History."
Finally, remember that if your resume passes the ATS test, it will be read by a human next. That means if you just stuff it full of key terms, it'll probably be an awkward read at best. Use language and formatting that will appeal to a human reader, too.
The hiring manager
The hiring manager is arguably the most important human who will read your resume. Hiring managers are usually responsible for hiring new employees or internal referrals to fill open positions. They post job listings, interview applicants, make job offers, and negotiate the terms of the contract with new hires.
For your resume, use language and formatting that are appealing to a human reader. Construct sentences that are clear, truthful, and easy to read, being careful not to include too much jargon. (Err on the side of less industry- and job-specific jargon outside of your Skills section, because a hiring manager may be unfamiliar with it.) Consider having an editor look over your resume for any grammar or punctuation errors.
Know that a hiring manager may be looking for things that are beyond your ability to predict. They are trying to hire the candidate who will be the best "fit" for the job and the company. If you don't get called for an interview, even though you are a great candidate, it may have nothing to do with your resume. The position may have been filled internally or it may have been closed without hiring anyone.
The recruiter
While hiring managers work from within a company to find, interview, and hire new employees, recruiters are typically external to the company wanting to hire you. Recruiting companies are hired by businesses looking to fill their positions. This means recruiters are an excellent resource for job seekers, because they will be familiar with a number of companies and their open positions.
Recruiters are not typically as experienced with each field, since they may work across different industries, so they are less likely to recognize industry jargon. In general, you should keep industry- and job-specific jargon to a minimum in your resume. However, if a term is in the job listing, then it is fair game and sometimes necessary to pass the ATS.
Recruiters probably spend the least amount of time reviewing resumes, so your resume needs to be easily scannable. If information can't be digested in 30-60 seconds, there's a good chance it won't get a second look.
Know what content to include.
Most resumes should include the following sections:
Education
Work experience or history
Skills
A link to your portfolio or website
Contact information
While you may be able to get creative with your section headings, this can backfire and make it less scannable for both human and ATS readers. When in doubt, stick to the conventional headings.
Include a Work History section.
Focus on relevant experience.
For your Work History section, list each position with the job title (make one up if you didn't have an official title or your title was misleading), company, dates, and, if appropriate, city. You can include paid positions as well as relevant volunteer experience, school projects, or extracurricular activities. You can even include non-traditional work (paid or not) such as tutoring your friends or creating a website for a family member. The key is to make it easy for a hiring manager to see how those experiences have prepared you to do the work described in the job listing. Use key words from the job listing to illustrate the work you have already done.
There are two standard ways of organizing the Work History section: chronological or functional. A chronological resume will list job positions in reverse chronological order, elaborating on each to highlight accomplishments and key skills utilized. A functional resume highlights skills and accomplishments independent of job position, then lists positions in reverse chronological order, without additional information.
A chronological resume is the more traditional choice and is favored by ATS software and recruiters. For this reason, choosing a functional resume may be a risky decision. A functional resume minimizes the emphasis on work history, which can be beneficial for job seekers with gaps in their employment or candidates who are changing careers.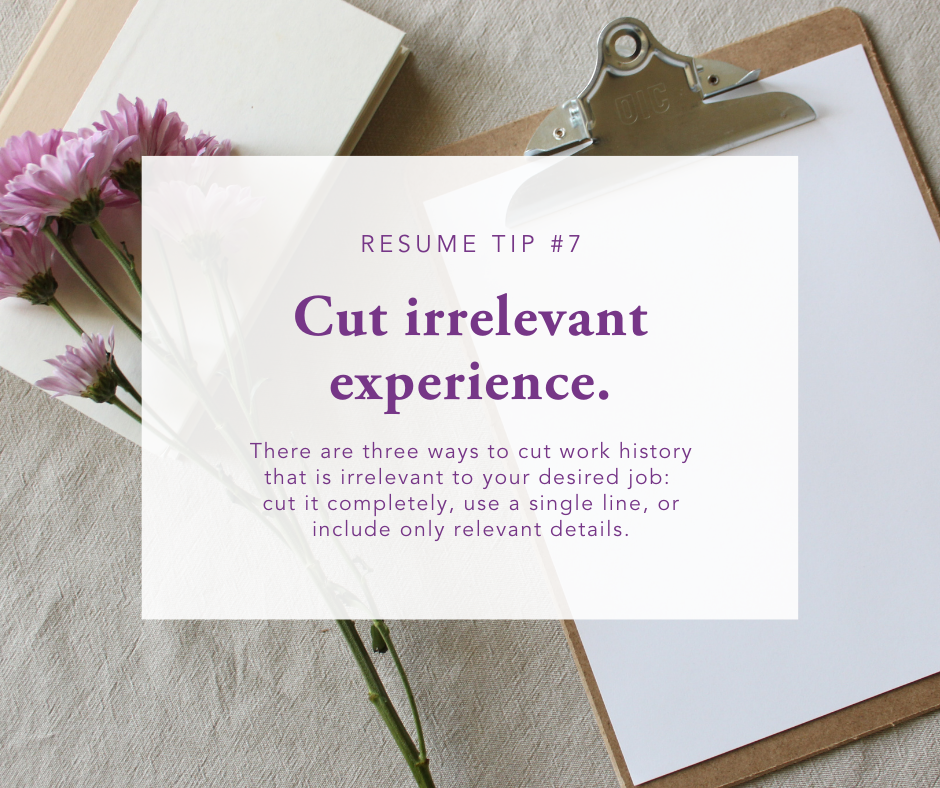 Cut irrelevant experience.
The biggest issue most of our clients have is that their resume is entirely too long. Their Work History section reads like a biography, outlining every move they've ever made in their career. But resumes are not supposed to tell your life story. They are supposed to sell you as a great fit for a particular job.
Most people need to cut down their Work History in their resume. It should be succinct, scannable, and focused on selling your skills.
If your experience or accomplishment isn't relevant to the job you're applying for or doesn't directly address something in the job listing, leave it out. Keep your bullet points focused on what the job listing is asking for. For example, if you are applying for a tech writer position, you should list a receptionist job without once mentioning that you answered phones or greeted guests:
Receptionist, Company A
January – November 2020
Wrote internal office notifications and announcements several times a month
Edited 20-page internal office handbook used by all employees
If you have entire jobs that don't help sell you as a good hire, you can do one of the following:
Cut the position from your resume entirely. This is the best solution when you are unconcerned about having gaps in your resume, e.g. you are applying as a freelancer or contract worker.
Include the position, but don't include any details. This is the best solution if you are concerned about having a gap in your resume. While most of your listed jobs will have bullet points outlining your accomplishments, this one should only include the barest details: a title, the name of the company, and the dates you worked.
Focus on accomplishments, not duties.
In your Work History section, focus on your most impressive accomplishments to wow a potential employer. Job seekers are often tempted to pack their Work History section with job duties to show how productive they were. This is often unnecessary, as the job title will imply what the routine duties were. You want a resume to show that you are exceptional, not just that you did your job.
Demonstrate how you add value.
Depending on the industry and job, an employee can add value to a business by:
Making money through sales or bringing in new customers/clients
Saving money through reducing waste or cutting costs
Creating efficiency by improving a company's internal operations or documentation
Enhancing the company's reputation through marketing or community outreach
Recruiting and hiring new talent
On your resume, showcase and, when possible, quantify the ways that you have added value for your previous employers. For example, you can list:
The number of clients your handled
The size of the clients assigned to you ("billion-dollar" companies or "small businesses with 10-25 employees")
The dollar value of your sales
How many customers you helped per hour as a customer sales rep
You can describe before-and-after scenarios if you improved internal operations. It's okay to make estimations for these numbers; the idea is to give potential employers a more concrete sense of the work you have done.
Use strong, action-oriented words.
Wording is very important in a resume. You want to use strong, action-oriented words when possible. Avoid using passive tense ("Documents were written" vs. "Wrote documents").
Some action words you may want include are:
Design
Establish
Direct
Coach
Negotiate
Resolve
Train
Avoid resume cliches.
Certain words and phrases should be avoided because they weaken your resume or they are unnecessary. Some of these cliches to avoid include:
Try
Love
Hard-working
Goal-oriented
Responsibilities include
References available upon request
Make bulleted lists scannable.
Most resumes use bullet points to describe accomplishments in the Work History section. For every bulleted list, place the most impressive bullet first. Then place the second-most impressive one last.
The reason for this placement is that when a reader is skimming your resume, the first and last bullet points are the ones they will see first. They may skip the middle bullets altogether.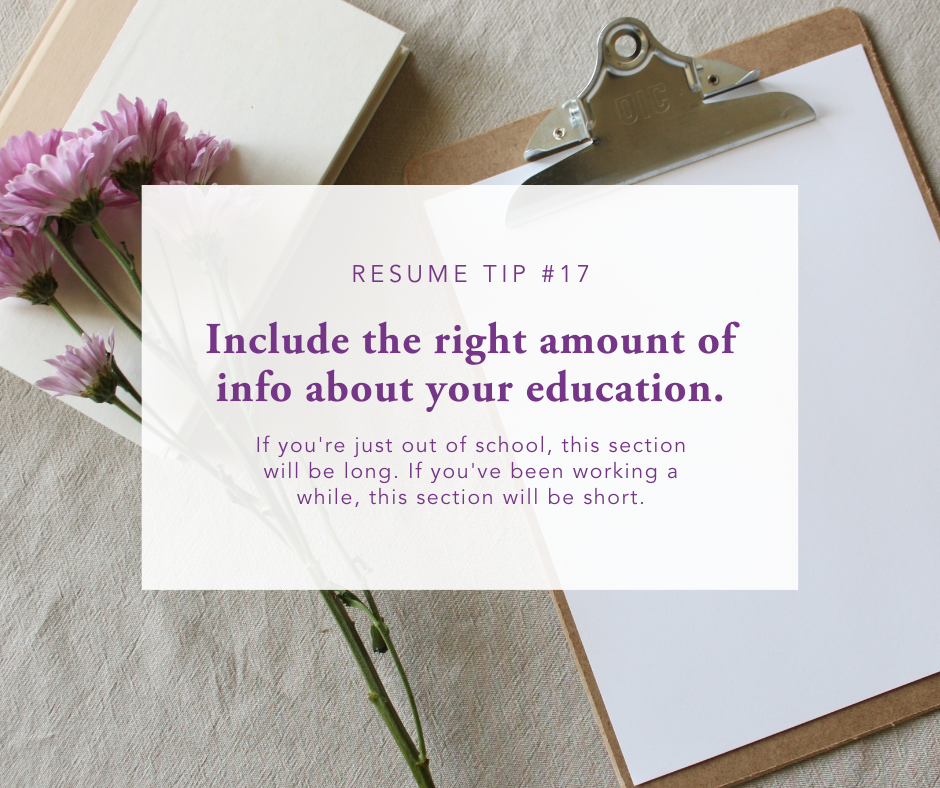 Include an Education section.
If you're a new graduate, especially if your degree is relevant to your field, your Education section should be at the top of your resume (within the first half) and include a good amount of detail, including academic achievements, honors societies, and relevant social and academic clubs. If you did any paid or unpaid work that is relevant to the job you are applying for, list it in your Work History section, not Education.
You should always include relevant certifications and training in your Experience section, whether or not you have a college degree. Don't order your Education section chronologically, but with the most impressive or relevant education first.
If your GPA from college was above a 3.0, include the GPA on your resume for up to 5 years after graduation. If it was above a 3.5, include it for up to 10 years. If it was below a 3.0, do not include your GPA in your Education section unless required by the job listing.
Whether your Education section belongs at the top or bottom of your resume depends on how recent the latest education was and how important it is for the people reading your resume. If a degree is a requirement that most applicants will have and it's been a while since you were in school, knock it down to the bottom. If you've completed certifications or training recently that will show you have a skill that can't be found in your Work History section, bump it up to the top.
Include a Skills section.
The Skills section is exactly what it sounds like: a list of your skills that employers will find valuable.
Tailor your Skills section for each job listing to which you are applying. If you are crafting a general resume, job listings will indicate what the industry expectations are for skill sets. Some skills may sound good in theory but are too broad to be compelling on a resume. For example, "editing" is probably too general to mean anything useful on an editor's resume, but "developmental editing" and "line editing" would work great.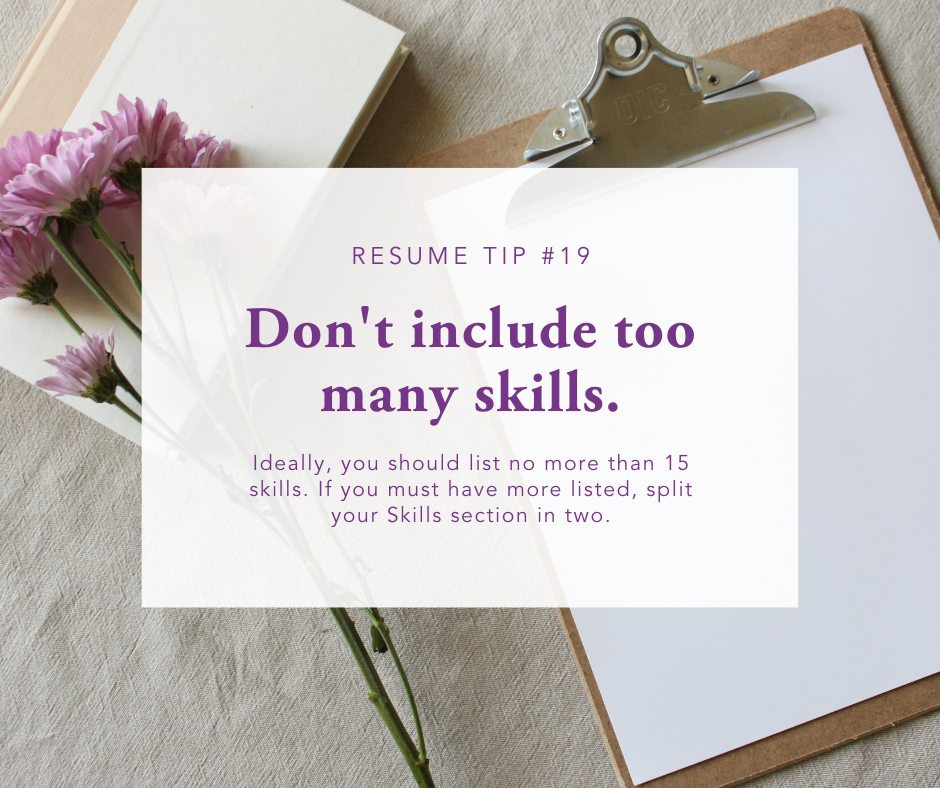 The ideal length for your Skills section is no longer than 10-15 skills. To condense this list, you can group skills into larger categories, such as listing software suites (Microsoft Office) rather than individual programs (Excel, Powerpoint, Outlook, etc.)
If your field requires a lot of technical skills, e.g. software development or coding, you may want to split your Skills section into two: a general list and, for example, a list of programming languages. This makes shorter lists, which are more scannable and easy to digest.
Demonstrate soft skills in your Work History section.
You can skip soft skills in your Skills section and demonstrate them in your Work History instead.
You can illustrate interpersonal communication skills by using wording such as:
Writes clearly and concisely
Cooperates and works well with others
Offers well-developed solutions
Resolves and negotiates differences
The list above is a starting point and you'll want to be as specific as possible when demonstrating these skills. As an example, you could write "Drafted, edited, and implemented internal office guide for new and existing hires."
Think about the ways that you have carried out planning and organizational tasks and list them in your resume. Examples of such work could include:
Identifies and and gathers appropriate resources
Creates plans/proposals/timelines/roadmaps
Manages projects effectively
Thinks critically to solve problems
The list above is a starting point. Be specific. As an example, you could write "Created and helped implement new office procedures, resulting in a 5% increase in efficiency."
Even if you aren't in a formal leadership position, such as a manager or team lead, you have probably demonstrated leadership skills. Here are some ways that you can identify leadership in your work history:
Leads and directs others
Teaches/trains/instructs co-workers
Helps team members set and achieve goals
Makes and implements decisions
Delegates effectively
The list above is a starting point. You should be as specific as possible. As an example, you could write "Onboarded 12 new hires in various creative positions."
You may not think of social media skills as "soft," and you're partly right there. The ability to use social media websites–Twitter, Facebook, Instagram–is a hard skill and those websites would be appropriate for your Skills section. Social media posts and campaigns, however, are an excellent way to demonstrate communication and marketing skills.
Demonstrate these skills by using wording such as:
Manages social media campaign
Enhances brand image through social media presence (it's even better if you can back this up with numbers)
Engages with industry influencers
Creates and executes content strategies
Drives engagement and leads
The list above is a starting point. As with all soft skills, be specific. As an example, you could write "Enhanced brand image through social media presence, leading to a 10% increase in Facebook followers."
Decide if you need a portfolio or website.
If you are in a creative or project-oriented field, you should include a prominent link to a website/portfolio in your resume. Artists, designers, writers, content creators, and software developers are usually expected to provide employers a way to look at their previous work, even when they have no paid work history.
If you are unsure if you need a website or portfolio, you can ask someone in the field or a potential employer to see what they expect. If contacting a potential employer makes you nervous, consider using a different email address from the one you will use for future job-related correspondence.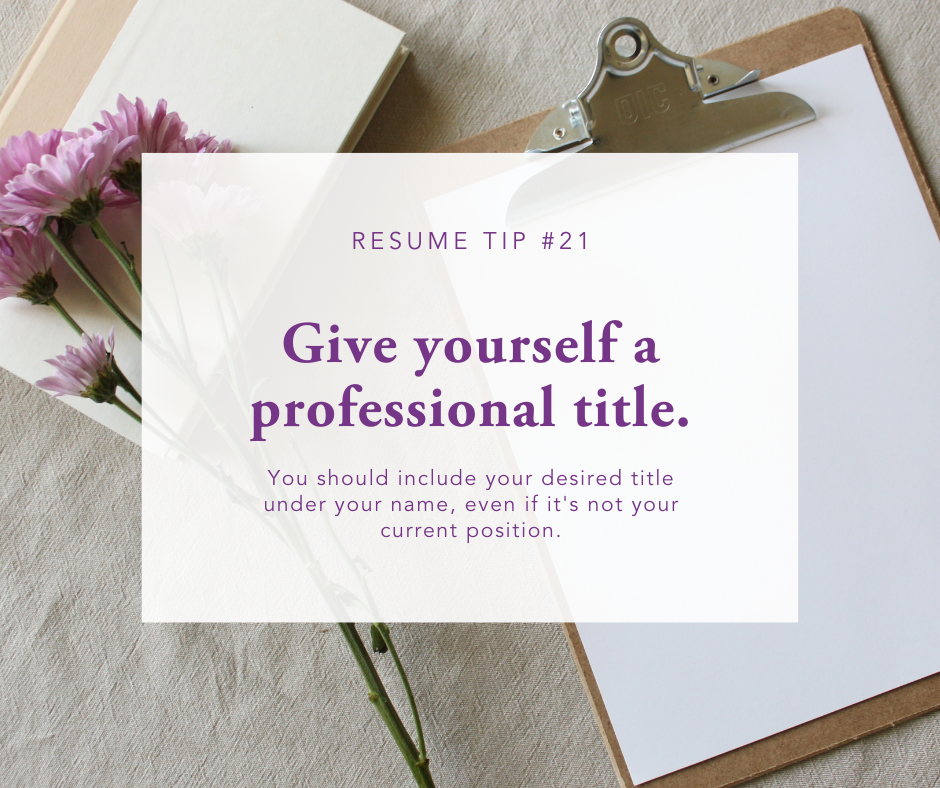 Give yourself a professional title.
Even if you've never held the title you are applying for, you should list that title below your name in your resume.
This piece of advice often makes our clients nervous, because they feel they are somehow being dishonest. But you are telling the employer that you are qualified for that position, so you should be confident enough to label yourself with it. Using the title in the header of your resume tells the employer that you already know how to do the job for which you are applying. (If you are applying for an intern position or another job that will require a lot of on-the-job training, then you should probably leave it off or use a more generic title).
Use a title that matches the employer's language in the job listing. For example, Courtney has sent resumes that say "Courtney Stoker, Tech Writer" and "Courtney Stoker, UX Writer," depending on the job listings. For her freelance resume, she lists herself as "Courtney Stoker, Writer, Editor, and Content Strategist."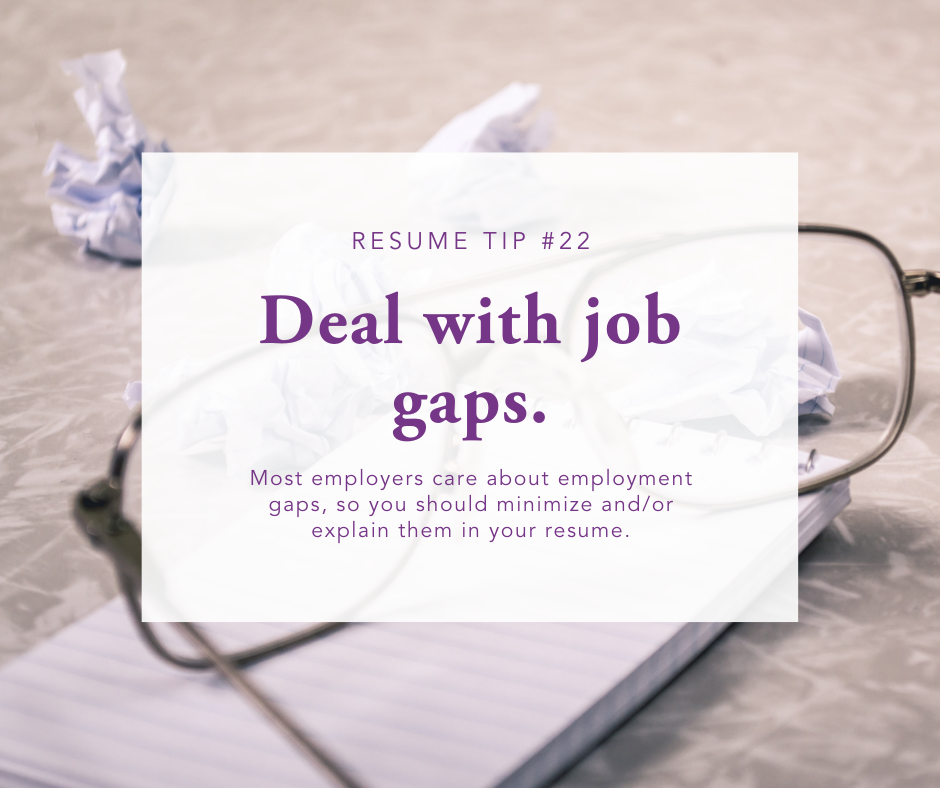 Deal with job gaps.
We firmly believe that employment gaps are none of your potential employer's business. Unfortunately, that's a minority view among hiring managers. So if you have employment gaps and you are submitting a traditional (chronological) resume, it's a good idea to address those gaps in your resume.
If you can fill gaps with education and relevant (or even irrelevant) experience, whether paid or unpaid, do so. It's better to have one line reading "Caregiver, 2000-2001" (if you cared for an ill or elderly loved one) than nothing at all. Don't lie, but don't feel uncomfortable listing "Personal Assistant" on your resume if you helped someone deal with email correspondence or "Typist" if you helped an older relative write a book. Think about what you did during that gap and see if anything "productive" can be listed to minimize the length of it.
In general, you shouldn't list "homemaker" or "stay-at-home mom" on your resume, but you should include relevant volunteering experience, such as leading a Girl or Boy Scout group, working on the PTA, assistant coaching, or helping to organize school events.
If you were fired, be prepared.
If you were fired from a job, you often don't need to address it in your resume or in your interview. This is because most larger companies have internal policies that don't allow them to disclose much information about former employees, including whether you left voluntarily or were fired. If you're told that your former supervisor or coworkers are not allowed to give you a reference, this is usually why.
However, some people are bound to ignore those policies and some companies (including most smaller ones) don't have them. So if you're worried that your former employer will give you a bad reference, there's really only one way to test that theory: Check for yourself. Have a friend call up the company and use the following script:
"Hi, this is [Your Friend's Name] and I am calling to verify employment information for [Your Name]." (Your friend will likely be directed to HR or your former boss at this point.)
Your friend should ask to verify:
Dates of employment
Job title and description
Reason for separation
The term most companies will use for being fired is "involuntary separation." When they tell your friend this, have your friend ask, "Off the record, if you were working somewhere else, would you hire [Your Name]?" If they still give a vague non-answer, your friend should ask, "Is [Your Name] re-hireable at this company?"
A "no" to either of these questions is essentially a bad reference, and may keep you from getting hired somewhere else. If this happens, you'll need to figure out whether you should include that job in your resume or not. Depending on how bad it is and how long you were with the company, an employment gap may be better. Otherwise, be prepared to address it in your interview or in a follow-up email after the interview.
Don't include an Objective section.
A potential employer cares about their objectives, not yours. When crafting a resume, your goal is to show an employer that you can help them meet their goals. For this reason, we discourage clients from including an objective statement on their resume. It's safe to assume that if you are applying for a job, your goal is to be hired and get paid for your work.
Include a Summary section
A Summary section is a nice way to include keywords and provide a quick summary of your qualifications for the hiring manager. We recommend making this section very short, no more than 3 or 4 sentences. Mirror the language from job listings by using the same job title and skills. For example:
I am a natural educator who likes to see students succeed. I earned a PhD in neuroscience and have worked with students across a variety of basic and advanced STEM subjects, including math, chemistry, biology, and genetics. I am skilled in customizing lesson content to match a student's understanding with new material that they wish to learn, and, as a tutor, I am easily able to switch between teaching mode and coaching mode.
Another option is to create a section called "What I Can Do For You." You can market your most valuable skills and accomplishments in an easily scannable section at the top of your resume. Consider including this section if you have a resume for freelance or contract work.
Don't include a picture.
For most job seekers, it would be inappropriate to include a picture of yourself on your resume. In fact, it could hurt your chances of getting hired if you do include a picture. The exceptions to this rule are people for whom their image is an integral part of the job, such as models and actors.
There are several reasons why a picture should not be included on most resumes. Recruiters and hiring managers may actively want to avoid seeing your face in order to avoid discrimination and unconscious bias. A photo may distract the reader from your skills and accomplishments, especially if your resume is being quickly scanned for key information. Including a photo may confuse the applicant tracking system (ATS), which is programmed to read text. Finally, a photo may be considered unprofessional, as it has not been a traditional part of resumes.
You can include a professional headshot on your LinkedIn profile and/or professional website.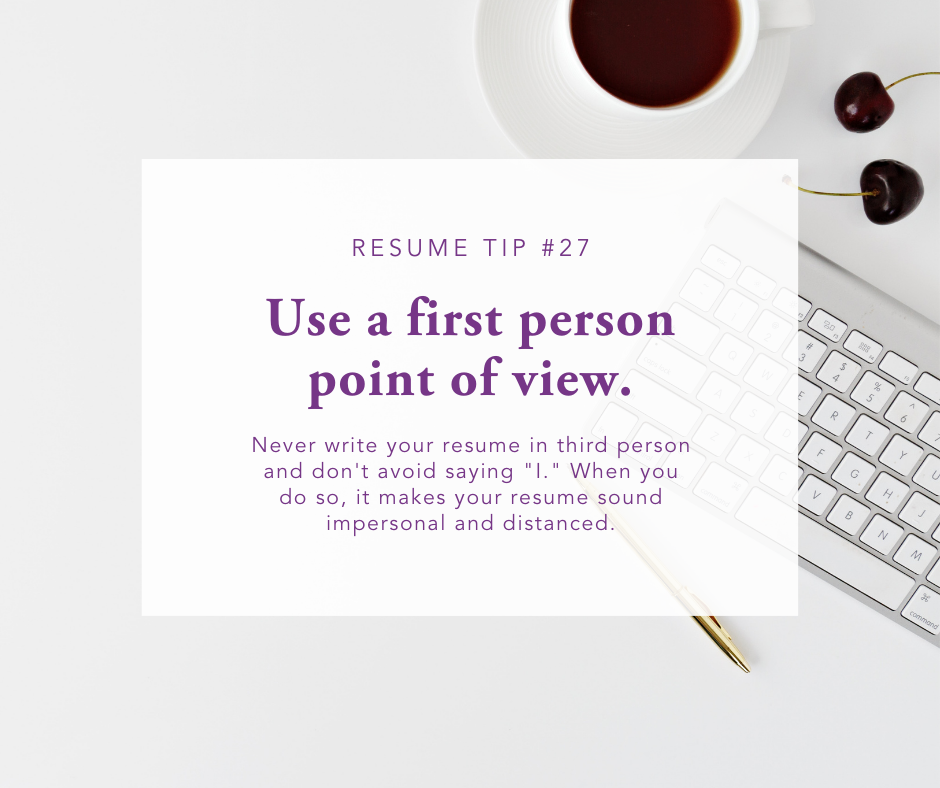 Use a first person point-of-view.
Traditionally, resumes were written in a strange, disembodied third person point of view, sounding like some mysterious third party wrote about you and happened to send it to your potential employer. While it may sound more professional to your ear, it's decidedly out of date to write in third person today.
Unless you're including short references in your resume (actual quotes about you from other people), your resume should be written entirely in first person. Don't be afraid to actually use the pronoun "I." This makes your resume sound personal and engaging, instead of distanced and boring.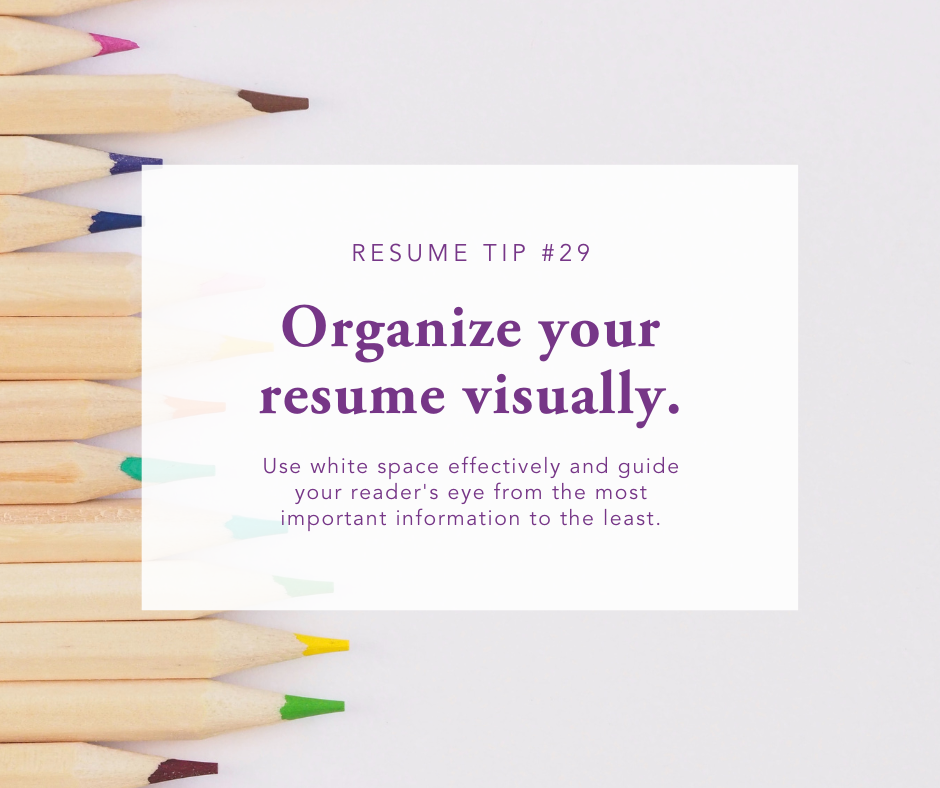 Make your resume visually appealing and scannable.
The final aspect of crafting a resume is its visual impact. Your resume doesn't just need to have the right words. It needs to look good and, much more importantly, be visually organized in a way that makes it easy to scan and find information.
The first pass of a resume usually takes a hiring manager less than a minute! If they don't find what they're looking for in those 60 seconds, they won't spend more time on it. So think about how people read documents–top to bottom, left to right, bigger text first.
Separate your sections with sufficient white space and give them large, easy-to-differentiate headers. This helps your reader jump to the sections they care about first.
Don't put unimportant stuff in the top left corner, like your contact information, which they don't need to see until after they've decided you're a promising candidate. Decide what is the most impressive stuff about you and put it as close to the top left of the document as possible. Put the less important stuff at the bottom of the page or in a column to the right of the main body text.
Reduce visual clutter.
A cluttered or visually unappealing resume is a challenge for the hiring manager to read. To reduce clutter, consider removing content from your resume or reorganizing it. For example, most clients benefit from editing their Work History section to shorten it and tailor it to specific job listings. Education, Skills, and Summary sections can also be shortened if your resume is too long.
Another option is to increase the page length of your resume. You may need 2 pages instead of 1, especially if you have 10 or more years of experience in your field. For resumes of any length, we suggest at least 1" margins all around. This helps create white space, which reduces the visual clutter.
Finally, if visual design is simply not a skill you possess or want to learn, consider hiring someone to revamp your resume.
Send your resume as a PDF.
If a potential employer specifies a file format for resumes submitted digitally, use that format. But if they do not, or if their list of accepted formats includes PDF, always send a resume as a PDF file.
When you send a Word file (DOC or DOCX), it will save your formatting. But unless the person opening it has the same fonts downloaded, it will not necessarily look the same. Word will try to replace your fonts with similar ones, but it's not particularly good at doing that! So if you do use Word, use more conventional fonts that all hiring managers are likely to have downloaded.

When you export a file as a PDF, all of the formatting and visuals (including fonts) are maintained for all readers. So what you see on your computer is what your hiring manager will see on their computer. For that reason, PDF should be your default file type for your resume files.
Reach out to the Austin Writing Shop.
Phew! That was a lot of resume talk, right? We wish you the best in your job search and if you need a professional to help get your resume in tip-top shape, feel free to message us on Facebook or shoot us an email at austinwritingshop@gmail.com!

See our pricing at www.austinwritingshop.com/job-hunters.